Meet our new Local GAG Program Coordinator!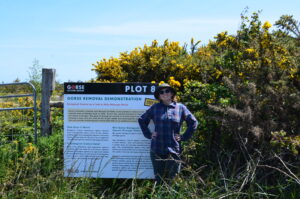 Hello everyone, I am happy to introduce myself as the new Local Gorse Action Group Program Coordinator! I originally joined the Coquille Watershed Association staff in the spring of 2018 to gather data for basin assessments, lead our summer field crew, and assist with monitoring activities. I am a local to the area and graduated in 2011 from Coquille High School and then received a B.S. in Natural Resources with a focus on Fish and Wildlife Conservation from Oregon State University. While studying I also worked with local organizations such as the Coos Watershed Association and the South Slough NERR to gain experience in the field. Now I am moving into the Restoration and Noxious Weeds Project Manager position with the Coquille Watershed and I am excited to join the boots on the ground force that makes up the GAG collective. In my free time, you can find me volunteering at the community bike shop, hiking, listening to music, and enjoying time with friends.
I am very excited to join the GAG and meet all of the partners involved in the many GAG projects. So far I have attended the April Full Partner GAG meeting, the Coos County Noxious Weed Control District Advisory Board meeting, toured some GAG projects with Goldie, and much more planned ahead. Currently, I am getting on-boarded for this new position and plan to be ready to go by May 31st, but feel free to reach out to me before that date and I will do my best to answer your questions. I definitely have some big shoes to fill, but I hope I can exemplify Goldie's positive attitude and energy.
I can be contacted at: [email protected]