Collaborative leadership for gorse management
---
The Gorse Action Group (GAG) is an informal group of participants including federal and state agencies, non-profit organizations, private industry, and landowners. The GAG is working to control and reduce the spread of gorse, minimize the impact of gorse on our economy and natural resources, and provide a successful process to share with others facing gorse infestations. To learn more about our efforts, visit our About Us page.
Gorse (Ulex europaeus) is a highly flammable invasive species on the southern Oregon coast.
It impacts the success of native species, the economy, and public safety.
What's new with the Gorse Action Group!
---
GREEN CLIMBER DEMONSTRATION
In April 2021 representatives from RMT Equipment brought two industrial grade remote controlled slope mowers unit, the LV300 and LV600, to the coast for a demonstration on gorse. The units were operated at two sites, Bandon and Cape Blanco area. We would like to thank the landowners for hosting and GAG partners that pulled it together. Below is a quick video of the Bandon demo put together by Wild River's Coast Alliance.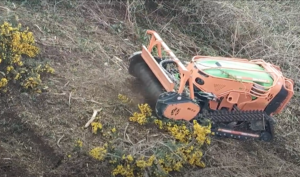 NOXIOUS WEEDS MANAGEMENT SEMINAR SERIES
The Gorse Action Group, in partnership with Liza Ehle (Windward Gardens) and Bear Slothower (City of Bandon), is eager to share a new noxious weeds seminar series available for free to contractors, homeowners, and land managers on the South Coast. Each presentation is full of helpful tips, tricks, and best management practices relating to different aspect of noxious weeds management.

Managing Noxious Weeds: Best Management Practices for those who work the land
Learn about different noxious weeds BMPs, such as when to spray, pull, cut, or mow, how/when/what to clean between jobs, how to deal with utility or rights-of-way, and more info that's especially relevant to those doing the work.
Gorse control on the South Coast
Hear about gorse success stories, how to reclaim dunes and sensitive habitats from gorse invasions, how to tailor control methods to fit different property sizes and scenarios, and more!
Contracting 101: What can you do better?
How to develop a successful contractor-homeowner relationship, when you need a contract or license, what kind of insurance to carry, BMPs for noxious weeds management, and more.
AIR CURTAIN BURNER DEMO
Monday, October 5 the USFS and Air Burners, Inc. held a demonstration of the Char Boss, an air curtain burner, at Bandon Dunes Golf Resort. This unit is designed for the high temperature burning of forest slash, agricultural vegetative waste, land clearing debris, green waste, storm debris, invasive species, and other combustible waste streams.  Gorse was the test feedstock for the demonstration and afterwards the resulting bio char product was sent to a laboratory for testing and research on outcomes for useable products.
Below is  a short video of the demonstration with a verbal presentation of the product, process, and goals.
More with the Gorse Action Group:
---
Sericothrips staphylinus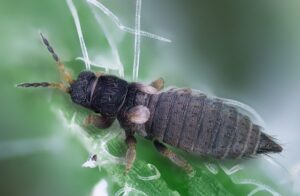 Well hello...biocontrol!
Released in early 2020 this thrips and some friends moved (were transported) to the area. Ten gorse infested sites along the Oregon coast became their new home, seven in Coos County. They should have plenty to eat and we hope they enjoy the climate.
Late summer monitoring showed that most sites still had colonies with 80% of release sites still inhabited.
Time will tell...check back as we keep our eyes on these thrips.
More can be found on Oregon Department of Agriculture's Biocontrol Program page.
BANDON GORSE COMPLIANCE DISTRICT PLAN
The City of Bandon is currently implementing gorse compliance according to their District Plan.
For more information see the City of Bandon page
Contact: Vegetation Management Coordinator, [email protected]
December

2023

Mon
Tue
Wed
Thu
Fri
Sat
Sun

5

Coos County Weed Board Meeting

•