Collaborative leadership for gorse management
---
The Gorse Action Group (GAG) is an informal group of participants including federal and state agencies, non-profit organizations, private industry, and landowners. The GAG is working to control and reduce the spread of gorse, minimize the impact of gorse on our economy and natural resources, and provide a successful process to share with others facing gorse infestations. To learn more about our efforts, visit our About Us page.
Click here to learn about important impacts of gorse.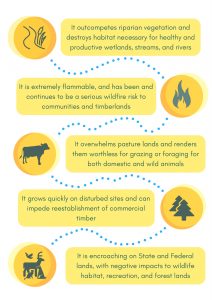 Impacts of Gorse
Gorse (Ulex europaeus) is a highly flammable invasive species on the southern Oregon coast. It impacts the success of native species, the economy, and public safety.
Click below to learn more about its history, ecology, and impacts in Oregon.
What's new with the Gorse Action Group!
---
Want to learn more about the fire risk of gorse?
Please join the Gorse Action Group at the Bandon Public Library Sprague Community Room for an upcoming FIRE AWARENESS night. Come learn about the science behind catastrophic fires and what we can do as a community to prevent fire and be better prepared should a quick moving fire knock at our doors. This event will be held on December 18th from 7-9 pm.
 Please go to our Facebook page to learn more about our upcoming events.
More with the Gorse Action Group:
---
Gorse Management
Have gorse on your property? The Gorse Action Group works with partner organizations throughout the state to develop effective strategies for gorse management and removal. Click below to see the latest land manager resources.
Southern Curry County, Got Gorse?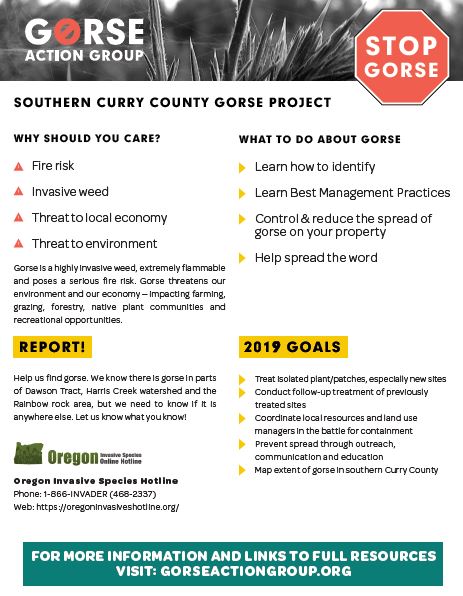 Curry County residents, we need your help finding and controlling gorse! Click on the photo to learn more about how you can help. If you have gorse, the Curry Soil and Water Conservation District may be able to help. Email us at gorseactiongroup@gmail.com, subject line "Southern Curry Gorse".
Tracking Invasives
Help us track invasive plants like gorse and many others across Oregon using mobile and online reporting systems. Simply set up an account and report what you see! Check out our Reporting page for more information on how mapping can help stop the spread of invasives.
December

2019

Mon
Tue
Wed
Thu
Fri
Sat
Sun

3

Coos County Weed Board Meeting

•